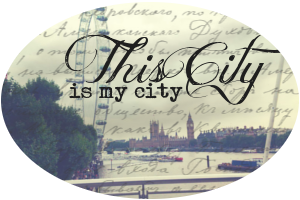 This is my
blogging series
here on my blog "here wildlife", which I just started recently.
My idea was to make kind of a collection of little impressions and personal opinions from other people and bloggers about their hometowns.
Since everyone is writing about their travel and many go to places where others live, I thought it's an interesting idea to read about some places from a different point of view, the one of a resident.
The series is called
'This city - is my city'
(I was inspired by Patrick Stump's song^^). This song was in my head for ages but I could never really identify with it, since I don't love my hometown (Cottbuy, Germany - where I grew up) but now in London, my new home, things are changing :)
Want to take part? Just write me a mail and I get back to you :) doetsch.sandra[at]googlemail.com
---